BAFFI NTF 9000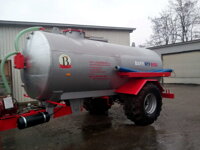 DESCRIPTION + ILLUSTRATION PHOTO
THE CHASSIS
The slurry tank is designed as a self-supported tank installed on a single-axle chassis.
THE TANK
Produced from steel the tank can be dyed, galvanized, with inside layer from glassfiber laminate or with inside sprayed accid resistant layer. The tank is from inside reinforced and has wave breakers. The deyed one is from inside painted with two-component colour(basic and top). On the closed rear side of the tank is a outlet with a diameter of 700 mm. On this outlet is intalled a tube with connector, to which it is possible to place a closure, connect a suction hose or a spreader. The diameter of the suction hose is in standard 102 mm. On the front side of the tank there are three(or more) holes covered with glass in order to monitor the level of the content inside the tank.
THE COMPRESSOR
The compressor(creating overpressure and underpressure/vacuum) MEC 4000 - product from Battioni Pagani Pompe - Italia is installed on the drawbar. The compressor is a hight quality product with many advancements like automatic lubrication, so it has a long service life.
OPERATION
Loading the tank is performed thanks to the vacuum wich is created by the compressor. Unloading the tank is performed with overpreassure or gravity. The compressor is in the standard version driven by universal joint. In the case of need it is possible to ensure that the compressor will be driven by a fluid motor.
SPREADING SYSTEM
The spreading is done with a spreading head, which is included in the standard equipments. It is possible to use other spreading systems, for example a water cannon, which is installed on the top or on the side of the tank. The cannon rotates with the help of gear ring and pinion, which is driven  with fluid motor.
ROAD TRANSPORT
The slurry tank has the Declaration of Conformity - CE. It can be officially registered and used for road transportation.
USING AND SECURITY
withdrawing of liquid waste and liquide manure
transport of water, liquide manure to fields and arable lands
to ensure watering, spraying and fertilizing
to ensure fire fighting in forests or on fields
to transit water for constructions, roads or for washing the streets.
THE TANK HAS 4 PROTECTION SYSTEMS:
      1. pressure-relief valve - it prevents the explosion of the tank during pressurization
      2. vacuum valve - it prevents from implosion of the tank during creating vacuum
      3. float ball lock - installed on the top of the tank, prevents that any sediment or water gets to the compressor
      4. desludger - in the case that even a small amount of water gets through the float ball lock, the desludger captures it, so            there is no way that the water gets to the compressor.
TECHNICAL SPECIFICATIONS:
Length: 6 990mm
Width: 2 550 mm
Height: 2 890 mm
Unladen weight: 3 700 kg
Total weight: 12 700 kg
Tank capacity: 9 000 l
Number of wheels: 2
Wheel track: from 2 000 - 2 500 mm
Wheels: 435/50 R19,5
Required power: 90 HP
Time of filling: 4,5 minutes
Compresssor type: MEC 4 000 BATTIONI PAGANI POMPE
Capacity of the compressor : 4 350 l/minute
STANDARD EQUIPMENT + OPTIONAL EQUIPMENTS:
Suction hose with suction strainer, 6 m long, with diameter 102 mm
Compressor with safety valve
Spray spoon
Blend
Oil trap
Mudguard with suction hose holder - 2 pieces
Float ball lock and desludger
Preassure-relief valve and vacuum valve
Monitoring holes with glass cover - 3 pieces in the from side
Manometer
Support leg
Changable towing eye
Single- or dual-circuit braking system
Electric system - 12 V, road lights
from inside pasted fiberglass laminate layer or sprayed accid-resistant layer
mixing system - a) with the help of a auger/spiral, which is positioned at the bottom of the tank(which is powered by fluid motor) or b) with the help of a tube with air holes
water cannon
preparation for applicators or with applicators(disc blade injector, line spreading or arable injectors)
weighing system - it enables an exact supervision of loading and unloading of the tank and it offert the possibility to set exact dosing with an automatic stop
hydraulic suction arm with the possibility to operate it from the tractor cabin(possible electrohydraulic control)
possibility to open the whole rear side of the tank
hydraulic motor to drive the compressor
hydraulic system for opening the drain valve
towing eye K80